Who we are?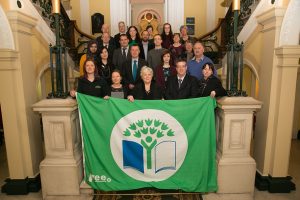 The Green Campus Programme has been in operation in Ireland since 2007. At present 40 Campuses are formally registered on the Programme, with nineteen awarded the Green Flag including two hospital sites. See Awarded Sites page for more information. For further information on the programme: Green Campus Description 2021-2022
The Green-Campus Programme encourages a partnership approach to environmental education, management and action in third level institutions. The Programme primarily aims to ensure that members of a campus community can engage in a meaningful way to enhance sustainability on campus. It must be noted that the Green-Campus Programme does not reward specific environmental projects or implementation of a new technology. Rather it rewards long term commitment to continuous improvement from the campus community.
Green-Campus is operated in Ireland by An Taisce – the National Trust for Ireland.
An Taisce's Environmental Education Unit is responsible for developing and operating some of Ireland's most popular and successful environmental programmes and campaigns.
For more information on these programmes please click on the links below:

An Taisce, meaning 'The Store House' or 'Treasury' is The National Trust For Ireland, and is Ireland's oldest environmental charity.  It was founded over 60 years ago to protect the environment and heritage of Ireland for the benefit of the people and future generations and for the 'Common Good'.  Since its foundation, An Taisce has worked in practical ways to protect our natural environment and our built heritage. It is a prescribed body in Irish planning law and an advocate of sustainable development, climate security, food security, energy security, water security and biodiversity conservation.  An Taisce is also a membership organisation with active volunteers and local associations located throughout the country.
Contact us
Green-Campus Ireland

An Taisce Environmental Education Unit,
Unit 5a Swift's Alley
Francis Street
Dublin 8

Phone

TEL: 01 4002218

E-mail