#GreenWeek2022
Campuses around Ireland are coming together for the second year to promote Green Week from March 7th to 11th. See below for some of the talks, workshops and events taking place. Don't forget to use the #GreenWeek2022 during the week. The theme of Green Week this year is Climate Education. The Union of Students in Ireland is also promoting the week this year. Keep an eye on their social media for their plans.
REWILDING & OUTDOOR EDUCATION WEBINAR

Join us on March 10th at 1pm for our Green Week webinar on Rewilding and Outdoor Education. We are Delighted to be joined by Kay Synott and Rachel Geary for this webinar.
Rewilding has become a bit of a buzz word in recent times. In its truest sense it involves the process of restoring an area of land to its natural uncultivated state with the reintroduction of species of wild animal that have been driven out or exterminated. However public and private institutions, businesses as well as community groups and individuals can do much to 'rewild' smaller areas of land and provide valuable habitats for flora and fauna. This webinar will explain the concept of rewilding and illustrate practical actions anyone can take to increase and maintain biodiversity.
The Learning about Forests programme is well-recognised internationally, with over twenty countries from around the world participating. Through interactive learning and field trips the programme reconnects the next generation with their environment, educating them to be more conscious of protecting it and instilling in students a sense of ownership of the natural world that surrounds them. Register for this webinar here.
2040 FILM SCREENINGS

A number of campuses are hosting screenings of the film 2040 during Green Week. If your campus is interested in hosting a screening please email greencampus@eeu.antaisce.org as we have a limited number of licences available.
Motivated by his 4-year-old daughter and concern for the planet she will inherit, Damon Gameau, Australian award-winning director (That Sugar Film, 2015) and actor, embarks on a global journey to meet innovators and changemakers to discover what the future of the planet could look like by the year 2040 if we embraced the best solutions already available to us, and shifted them rapidly into the mainstream.
The film shows how these solutions – including seaweed farming, empowering girls and women with education, automated vehicles and decentralised, renewable energy systems – could regenerate the world for future generations.
CLEAN COASTS (Event Postponed)

As part of #GreenWeek2022 Clean Coasts will host a clean-up of Sandymount Strand in Dublin on Friday the 11th of March from 11 am to 1 pm. Places are limited so please ensure to register here.  This event has been postponed.
The Clean Coasts programme was established in 2004 and it works with a diverse range of and groups and individuals to empower them to make a positive impact on their local environment. Annually, we organise hundreds of beach cleans mobilising over 1,800 Clean Coasts groups and 37,000 volunteers nationwide. Clean Coasts run a variety of community engagement initiatives and campaigns including the Love Your Coasts Photography Competition, the Big Beach Clean, the Clean Coasts Roads Shows as well as the #2minutebeachclean and Think Before Your Flush campaigns. You can find out more at www.cleancoasts.org.
This event has been postponed.
CLIMATE AMBASSADOR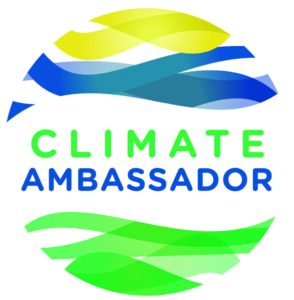 Communicating Climate Change – Monday March 7th 1-2pm
As part of #GreenWeek2022, Gary Tyrrell, Climate Action Officer with An Taisce's Climate Ambassadors will host a workshop on having conversations about climate change and also how to effectively include such materials in presentations, in ways that are meaningful and engaging.
Register in advance for this meeting here.
Green Week Networking Chat – Friday March 11th 1-2pm
This is an informal lunchtime chat for third-level student Climate Ambassadors and Green-Campus committee members. Join us for this lunchtime chat, to help you share & learn what's going on in other campuses and explore ways of collaborating going forward.
Register in advance for this meeting here.
SELF CARE IS CLIMATE CARE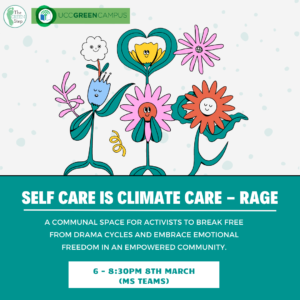 Self Care is Climate Care sessions are a communal space for activists to break free from drama cycles and embrace emotional freedom in an empowered community.
During Green Week join from the comfort of your home via Microsoft teams to explore climate related emotion rage on Tuesday 8th March, 6-8.30pm register here.
Find out more about the sessions here.
MAYNOOTH GREEN DAY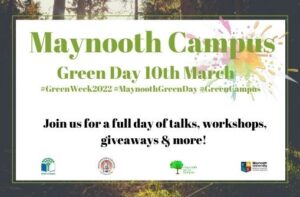 Green Day is a celebratory event showcasing Maynooth Green Campus achievements as part of #GreenWeek2022. It takes place on Thursday, March 10th from 9:30 to 16:00 in the John Paul II Library. It is a day to engage with students, staff members and the wider community.
Full list of talks, workshops and more coming soon
9.30-10.00 Tea & coffee
10:00-12.30 Working group talks/MSc Design Innovation student presentation
13.00-14.00 Campus natural habitat tour with Dr Gail Maher and MGC team
14.00-16.00 Clothes Swap-Shop/Demo/Seed Bomb Workshops
Stalls will include:
Hydropower demo
BirdWatch Ireland
Maynooth Zero Waste Swap Shop
Coyne Cycles shop (20 euro for full bicycle service, only pay for part no labour cost)
Please, register via Eventbrite https://bit.ly/3IfvKuR
Everyone is welcome. Drop-in at any time.
N.B: For those who cannot attend in person, the first part (talks/presentations) of this event will be streamed live.
BREAK THE BIAS – GENDER EQUALITY & THE CLIMATE FIGHT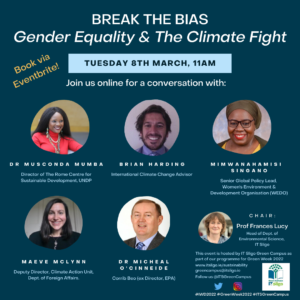 As part of Green Week 2022, IT Sligo Green Campus invites you to join them for an online panel discussion: Break The Bias – Gender Equality & The Climate Fight on Tues 8th Mar, 11am GMT 
Distinguished panelists include:
Dr Musconda Mumba, (Director of Rome Centre for Sustainable Development, UNDP),
Brian Harding (International Climate Change Advisor),
Maeve McLynn (Deputy Director, Climate Unit, Dept of Foreign Affairs)
Dr Micheal O Cinneide (Corrib Beo, ex Director EPA)
Mwanahamisi Singano (Senior Global Policy Lead, Women's Environment & Development Organisation (WEDO))
Chair: Prof Frances Lucy, Head of Department of Environmental Science, IT Sligo.
This event is open to the public – booking via eventbrite here.
FOREST BATHING & NATURE ART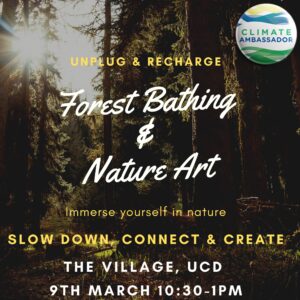 This is an outdoor eco-therapy event based in the woodlands near The Village in UCD with Climate Action Officer, Gary Tyrrell.
Find out more and how to register here.
'MODELLING IRELAND'S DECARBONISATION TARGETS' WITH DR HANNAH DALY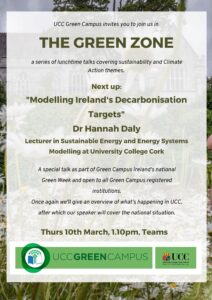 As part of Green Week University College Cork will host the next in their 'Green Zone' series. Dr. Hannah Daly – Lecturer in Sustainable Energy and Energy Systems will speak at 'Modelling Ireland's Decarbonisation Targets.'
This event takes place on Thursday March 10th at 1.10pm via teams.
Green Week in GMIT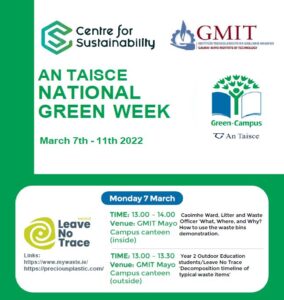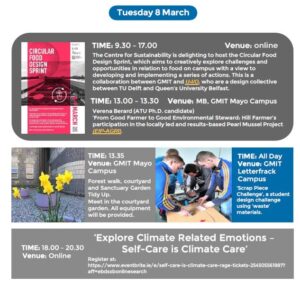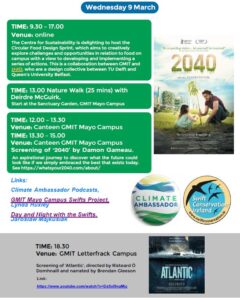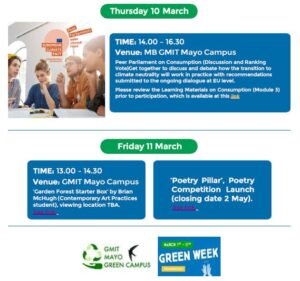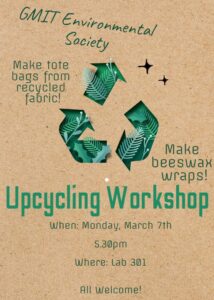 TU DUBLIN GREEN WEEK
You can check out the wide range of events and activities taking place across the TU Dublin Campuses and online here.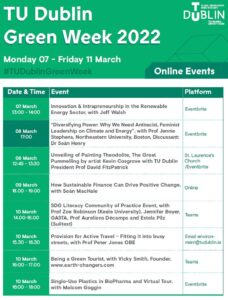 IT SLIGO GREEN WEEK
You can find more information about the events taking place in IT Sligo during Green Week here.
These include;
DCU GREEN WEEK
Climate Action and Biodiversity Emergency Action Board: As part of Green Week we would like to hear your voice – your concerns and your suggestions. To hear and see (!) your voice we have set up a virtual board and are also putting up some physical boards on each of the campuses.
Zero miles greens at DCU: Throughout Green Week the DCU Restaurant on the Glasnevin campus will be serving produce grown in DCU's Community Garden. One of the easiest ways to ensure we are eating sustainably is by eating what is grown locally – and we can't get much more local than what's grown on campus!
Sustainable Market: The DCU SU are organising a Sustainable Market planned for Monday (07/02/2022) with several vendors of sustainable / reusable products.
Swap Shop: The DCU Sustainable Living Society will run their weekly Swap Shop in the Student U on Tuesday to tackle the ever growing impact of fast fashion and consumerism.
Bring Your Own Reusable Cup Day: On Wednesday to encourage you guys to ditch disposable cups in favour of the more sustainable option, coffee and tea will be available for €1 to anyone bringing their own cup.
DCU My Green Labs: DCU is engaging with the MyGreenLab programme working to gain green lab certification for laboratories. If you want to know more and hear some first-hand experience from labs working on achieving my green lab certification, please come along to the DCU MyGreenLab talk on Wednesday 09/03/2022 at 13.00 – here is the zoom link – registration is necessary.
Activism Workshop: Eoin Campbell and Sue Breen were members of the Irish arm of the global direct action movement Extinction Rebellion, will be hosting a 90 minute workshop in which they will give an overview of their involvement with the Extinction Rebellion movement and describe what is involved with such activism efforts. 
Rewilding DCU: DCU will be hosting three separate gatherings on the Glasnevin, St. Patrick's and All Hallows campuses to scatter 'Wildflower Native Seed Bombs' in designated areas to make a contribution to improving Ireland's nature and biodiversity. If you want to help please come along and help – over 1,000 seed bombs need to be scattered!